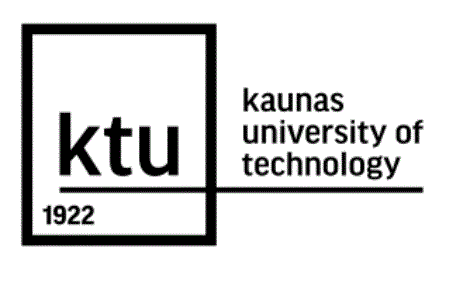 Kaunas University of Technology (KTU), the university with the deepest traditions in the field of technological studies in Lithuania. KTU strategy is focused towards the strengthening it responsibility to the society and the country, towards consolidating its activities for the improvement of the people's life quality and acceleration of the statehood development. The main activities in this area are related to the transfer of knowledge and technologies created at KTU so as they contributed to the Lithuania's vitality and its sustainable knowledge-based economic, social and cultural development.
KTU has 9 faculties, 8 institutes, 9 research centres, 23 student organisations, 7 art societies. KTU is the founder of two integrated centres of research, studies and business – "Santaka" and "Nemunas" valleys. There are 10 231 students studying at the university; 7481 of them are students of the first cycle (bachelor's) and integrated studies, 2398 –master's students, 324 doctoral students, and 28 students of professional studies. 515 international students study at KTU. Student mobility: 176 outgoing students of partial studies and internships, and 163 incoming students of partial studies and internships.
There are 129 study programmes in total; 62 of them – for the bachelor's and integrated, 67 – for master's, 18 – for doctoral studies. KTU offers 46 bachelor's and master's study programmes in English; all PhD studies are conducted in English. The academic staff of the KTU includes 2250 employees (1525 of whom are full-time employees)
KTU is integrated into a number of worldwide academic and research communities. KTU is a member of the following international organisations: the European University Association (EUA), the European Society for Engineering Education (SEFI), Conference of European Schools for Advanced Engineering Education and Research (CESAER), UN Global Compact, Strategic Management Society (SMS), Baltic Sea Region University Consortium for Science and Technology (BALTECH) as well as other international educational network organisations. KTU is a Member of the Magna Charta of European Universities
By selecting strategic partners for collaboration, KTU can evolve and adapt to its ever-shifting priorities and the latest advances in teaching and research. KTU collaborates with Aalto (Finland), Technical University of Denmark (Denmark), University of Bologna (Italy), Beijing Institute of Technology (China), Shizuoka University (Japan), National Taiwan University (Taiwan) and other universities internationally leading both in study and research. The University has signed over 450 Erasmus+ agreements with more than 350 HEIs from Europe and other partner-countries and nearly 100 bilateral agreements with universities and institutes across the globe to facilitate the collaboration in studies, research, innovation transfer and enable the mobility of students and academia. KTU staff are active members of the European Association for International Education (EAIE), European Consortium of Innovative Universities (ECIU) and the national coordinator of the Baltic University Programme (BUP). In 2012, KTU was awarded QUESTE-SI (Quality System of Science and Technology Universities for Sustainable Industry) accreditation for integrating the sustainability attitude in all of its functions, duties and activities.
KTU is famous throughout the world for its breakthroughs in ultrasound, organic chemistry, mechatronics, system diagnostics, environmental engineering and many other fields of science. KTU successfully implements European educational programmes and closely collaborates with Lithuanian and foreign industry. KTU gives an actual opportunity to gain perspectives on demand in the contemporary labour market and to reach career heights.